Website Development Company in USA
Website Is The Door Of Your Online Business! Intellecto Global Services is one of the most experienced and trusted website designing and development company in USA.
With the ever-expanding reach of the internet, businesses need to have a strong online presence. Having a website that is user-friendly and responsive is essential for success. Developing and designing a website is a crucial task for any business today.
Intellecto Global Services is the best web development company in the USA, with a carefully chosen team of skilled web developers who specialize in the latest development techniques and languages. 
Our experts are able to deliver excellent results while keeping the needs of the clients in mind and meeting deadlines. The field of technology has seen drastic changes in recent years, with new discoveries being made almost daily. This has led to its rapid popularity.
Professional Web Development Services
At Intellecto Global Services, every website design and development professional understand the importance of giving full priority to the client's needs and demands. As a website design company in USA, our goal is to be the best among the many web development companies. We strive to engage the client's interest in the few seconds that a website can hold a visitor's attention span.
Ecommerce Website Development
Do you have a dream of setting up an online store? We can help make it a reality! Our eCommerce website development services are designed to drive traffic, leads, and revenue. Our goal is to create websites that meet our clients' objectives and help them reach their goals. Let us help you make your dream come true!
Custom Website Development
We are a tech-savvy, online marketing-focused website development agency in USA. Our team of professionally skilled website developers can create a difference, drive growth, and reach your target audience with customized websites that are programmed for optimal function and accessibility.
Dynamic Website Development
Our dynamic website development offers power and flexibility. If you need to update your website regularly and upload information frequently, Intellecto, the top emerging web development company in USA, can help you do it more efficiently.
Do you ever wonder if there is any room for small businesses to succeed in the online world? At Intellecto Global Services, the answer is yes! Our talented and creative WordPress web development team can provide you with comprehensive website development solutions and strategies that are up-to-date with the latest SEO trends. This will help you promote your services and products to potential customers all over the world.
At Intellecto, our CMS engineers and designers are experts in using popular CMS programs like Drupal, Kentico, WordPress, Umbraco, Joomla, Mambo, Moodle, TYPO3, and DotNetNuke. We provide a full range of CMS website development services and solutions for B2C and B2B portals, websites, eCommerce solutions, and enterprise applications.
Why choose Intellecto for web development services in USA
At Intellecto Global Services, we strive to be one of the best website design and development companies in USA. We understand that your brand has a story to tell, and we are here to help you create a website that will be the perfect extension of your brand. We take full responsibility for creating an aesthetically pleasing website that will set the tone for your online presence. Our Scrum Masters ensure 100% transparency and complete communication throughout the entire process, from start to finish.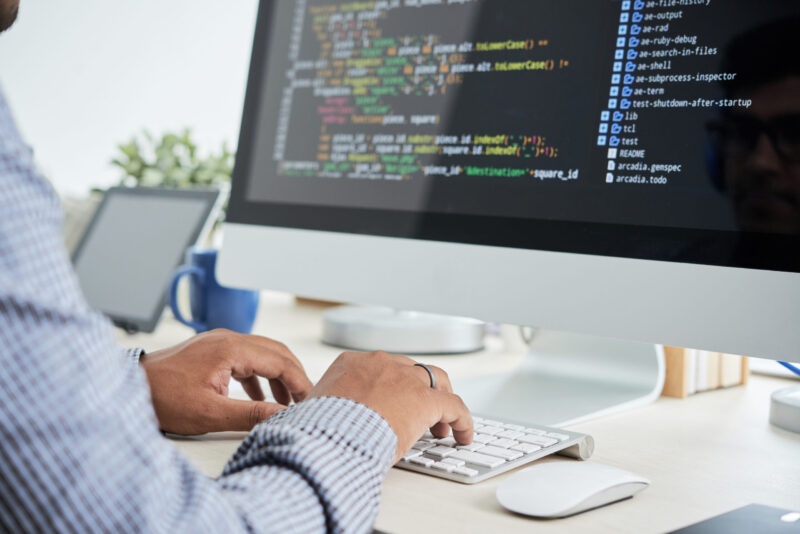 Our web development workflow process
In order to maintain our commitment to transparency, we are outlining the various stages of website design and development.
Discovery & Intelligence


We start our web development process with an integrated discovery that includes research, requirement gathering, and competitor analysis. This helps us understand the
business needs, areas of opportunity, key use cases, current pain points, competitor benchmarking, and industry best practices.

Planning & Strategy


We can help you build a tech stack that meets your current and future needs, integrations, and budgets. Our web development team will create an optimal technology
architecture that boosts business performance and productivity.

Information Architecture & Design


We start the web development process by creating wireframes, Information architecture (IA), navigations, content flow, UI/UX, and mapping user engagement flows. This helps us organize and label key features and functionalities to increase the average session time and optimize conversions on the website.

Development & Testing


Our team takes an agile approach to get the plans in motion with the development team. We upload new features and improvements such as CTA insertions in core areas, Iconography, third-party marketing integrations, and run tests on functionality and unit testing.
FAQ For Website Development