DevOps Consulting and Implementation Services
"Accelerate your business workflow with end-to-end automation."
DevOps Implementation Services
Intellecto Global Services has experience in deploying DevOps to enterprises and has extensive experience in ongoing integration and deployment processes. Intellecto Global DevOps services in India encompass DevOps consulting services, infrastructure automation, construct and launch automation, tracking and monitoring, and training and migration. At Intellecto Global Services, DevOps Practice helps companies outperform their competitors, gain market share through faster delivery and innovation, and increase customer satisfaction for end customers. Our team of DevOps developers has expertise in the DevOps framework and has successfully delivered reliable applications.
As the pace of software development will increase rapidly, the company development and operations teams need to work together and combine their methods to deliver high-quality software versions faster and more efficiently, ensuring sustainable implementation. With sophisticated tools, software development companies can free themselves from the rigid and process-oriented application life cycle wherein development, testing, project management, and operations teams are isolated.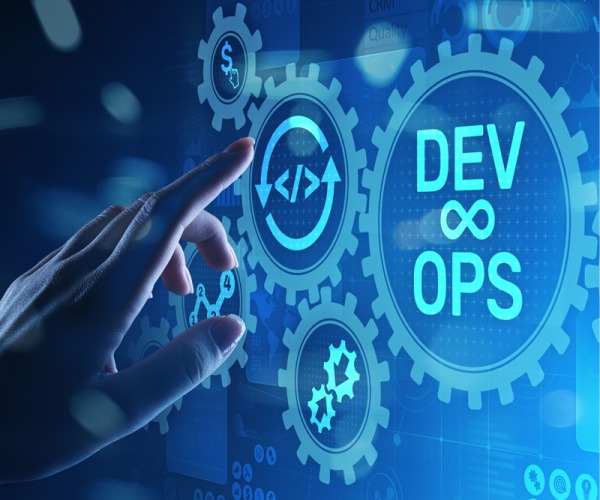 DevOps Consulting and Implementation Services
With strong DevOps services, we assist businesses to establish a brief software delivery cycle by bringing together people and technology. We deliver software faster – no matter how complicated the project is. Our key offerings include –
DevOps Configuration Management
We offer complete configuration management to manage source code repository, artifact repository, and database management for powerful DevOps improvement solutions. With our Configuration management service, you can focus on your business values and strategy.
Integration and Deployment
Our team delivers effective DevOps development answers with continuous integration. With continuous deployment, we make sure each software change is deployed robotically to production. We use agile methodologies to deliver the best service with accuracy.
Infrastructure Automation
Infrastructure automation consists of installing and configuring servers and establishing communication across different software. We will let you accelerate the software operations with the scripting environment by connecting many nodes.
The team of professionals has expertise in the latest tools and technologies to deliver secure solutions. We assist you to migrate your complicated business infrastructure to the cloud. With Azure, AWS, or Google Cloud, we scale your current device to make it cloud compatible.
DevOps Consulting Services
With us, you can enhance your DevOps development process. We guide you about the latest technology and examine business requirements that will help you visualize the innovative outcomes. We deal with assessment, overall management, and automation.
We take care of user experience, subsequently with setting up cloud infrastructure we will ensure 24/7 system monitoring to fix errors immediately and enhance the system performance. Our DevOps software development team submits a timely record to list down the updates required for a consistent and optimized system.
Benefits of DevOps Implementation Services
Automate end-to-end delivery pipeline.
Deploy and update applications in the cloud.
Increase productivity with a robust ecosystem.
Support continuous integration through support delivery.
Improve team productivity and deliver new functionality faster.
Improve reliability and scalability with automation.
The synergistic effect of the ongoing involvement of multiple stakeholders is a big aspect of DevOps consulting and implementation. You can experience a workload shift with reliable, high-quality software applications and services that also support automation.
We work with clients to set specific, quantifiable desires at the beginning of each project phase and then follow up as the development progresses. All stakeholders are concerned at this stage to convey a significant effect to the discussion, define targets, and reduce redundancies.
This is a pivotal phase of development, where the developers work with the operations personnel to understand end-consumer needs. Our developers continuously merge their code modifications in a shared repository, facilitating timely integration and automatic testing.
Timely execution of testing is fundamental to the fitness of any software. We implement a frequent-testing policy by way of automation. Newly committed code is exceeded through numerous testing phases to make sure quality maintenance.
Continuous deployment is essential to take full advantage of a well-designed agile system. Every significant, validated change is robotically released to the users. Quick releases enhance the comments loop, such that developers can isolate issues with better accuracy.
Continuous Monitoring and Feedback
With the system now efficiently deployed, we set up monitoring parameters that provide brief feedback. This enables us to track functionality in real-time environments and ascertain system reliability. Security checks are also automatic to make sure of timely and accurate reporting.
Why Choose Us As Your DevOps Implementation Services?
At our DevOps development company, we trust in offering only the best for our clients. That's why we hired a team of talented developers with years of experience and expertise in the latest DevOps tools. Our goal is to plan effectively and execute techniques for delivering top-notch DevOps application development services to meet your enterprise needs.
Strategic Vision
At Intellecto Global Services, we consider your unique business ideas and assess the market requirement to deliver the most efficient solutions. We help you in growing business management strategies that obtain your goals and assist you to transform your vision into reality.
Dynamic and Flexible Planning
This technology necessitates flexibility to be seamlessly included in operations. When the team is disciplined and communicates effectively, the DevOps Model is more usable and generates excellent outcomes.
Transparency
To construct and nurture the relationships we have with our clients, we believe in trust and transparency. That's why we communicate rapidly and effortlessly, with no hidden costs or charges. Our terms and conditions are continually spelled out. You can rest assured that your company's intellectual property and ideas are steady with our DevOps software development agency.
Result-driven Approach
The world believes in action and outcomes, and we strive to deliver them to our clients. Every method we employ is aimed at decreasing processes to outcomes. We've confirmed ourselves time and time again by providing the best programs to a lot of enterprises.
Nagios
Kubernetes
Selenium
AWS
Puppet
FAQ DevOps Consulting and Implementation Services